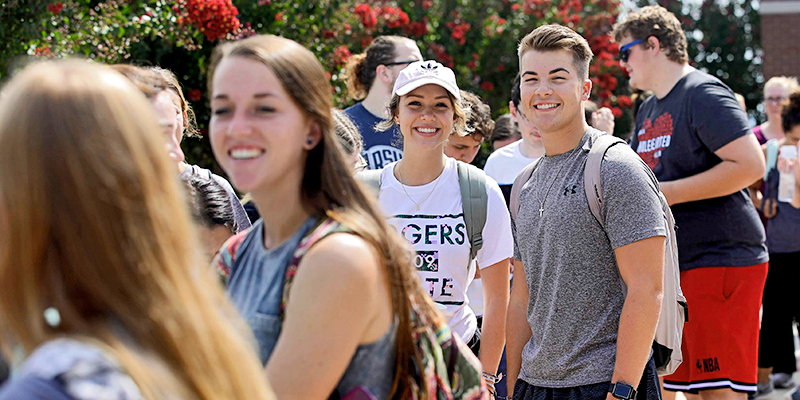 The mission of the Rogers State University Behavior Intervention Team (BIT) is to maintain a healthy, safe, and secure campus environment, free of intimidation and harm, by addressing behaviors of concern. The role of the Team is to view behavior reports, assess levels of threat and make referrals, document contacts and case information, and refer to the V.P. for Student Affairs for Code of Conduct violations.
Submit A Report
This report is for non-emergencies or for reporting purposes after Campus Police call has been made.
Our Purpose
Educate the campus community about behaviors of concern and reporting procedures.
Provide guidance to faculty, staff, administration, and students in assisting individuals who display concerning, disruptive, or disturbing behaviors.
Serve as a "Centralized Collection" point of information that addresses a spectrum of risks from a position of care and concern.
Identify patterns of behaviors from multiple sources that suggest a need for intervention.
Review all referred incidents of actual or potential violence as soon as reasonably possible. It is recognized that some referrals will require immediate review/response while others may be dealt with during regular Team meetings.
Facilitate early intervention to assist individuals with supportive services and referrals to outside agencies.
Assess levels of threat and risk to determine the most appropriate response and action plan to ensure safety for the individual, as well as, the campus community.
Take appropriate action to implement the plan and mitigate the danger to the individual and/or campus community. Assure that all necessary follow up and documentation is conducted.
Conduct follow-up at determined intervals to ensure continued support of referred individual.
Members
Authority
Within the parameters of existing state and federal statutes, Team members shall have access to all pertinent records and information, held within each member's department, which would aid the Team in investigating, reviewing, and determining a course of action. Team files shall be maintained by the Coordinator of Counseling Services. Protecting student privacy is a high priority of the BIT. Records and proceedings are kept confidential and shared only on a "need to know" basis in a manner that is consistent with University policy and obligations under applicable laws, including FERPA. Employees of the University are expected to cooperate with investigations conducted by the Team.
Behavioral Report Protocols
A behavior report is submitted into a secure database
The BIT Chair and/or VP for Student Affairs review the report and determine whether to proceed as a BIT case or handle via other means
If a BIT case is opened, the team is notified and a meeting may be convened
A background investigation begins and a threat level is determined, if any
If a threat exists, the BIT recommends an intervention to the BIT Chair and/or VP for Student Affairs
Intervention takes place and team follows up as appropriate
More Information