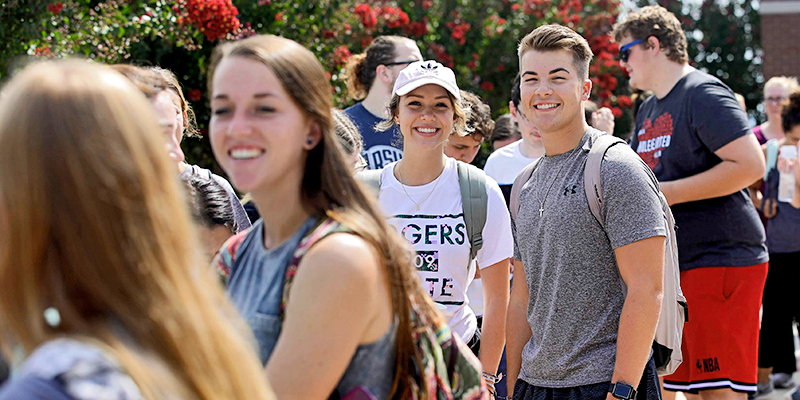 Request Information  Visit Campus  Apply Now
Start at OSUIT, Finish a Hillcat: Transferring to Rogers State University
Transferring colleges can be an important and valuable decision. Whether you've already earned your associate degree at OSUIT or are transferring credits from general courses, Institute of Technology (OSUIT) and RSU have teamed up to help you make your transition as smooth as possible.
If you're considering transferring colleges to complete your bachelor's degree, OSUIT and RSU are here to help you achieve your academic and career goals. Several Oklahoma State University Institute of Technology courses and associate programs transfer directly into RSU's bachelor's degree programs to help you seamlessly continue your journey toward a career in tech or related fields.
What's Your Major? How Your OSUIT Credits Translate at Rogers State University
So, you want to finish your degree as a Hillcat. How will your credits transfer? Regardless of how many courses you've taken at Oklahoma State University Institute of Technology, transferring credits is easy.
If you're transferring colleges from OSUIT, use the following guide to locate the RSU bachelor's program that applies to you:
Oklahoma State University Institute of Technology Associate Programs → Rogers State University Baccalaureate Programs
Degree Programs:
Interested in transferring universities but not sure what program is best for you? We're here to help you find your way. Contact the admissions office for more information on the transfer process.
Why Transfer to Rogers State University?
Beyond a smooth transition from OSUIT programs, you'll enjoy everything that comes along with being a Hillcat: a close-knit community, small class sizes, applied learning opportunities, and a vibrant campus life. RSU also offers:
Rogers State University: A Campus Full of Life and Opportunity
Hillcat athletics. 40+ student organizations. Competitive video gaming. On-campus apartment complexes.
These are just some of the things that students transferring universities from OSUIT — and all Hillcats — enjoy about RSU. Whether you're looking for the excitement of NCAA Division II athletics or you want to meet other students who share your interests, RSU has all the benefits of a larger institution with the feeling of a smaller, more connected community.
Financial Aid for Transfer Students at RSU
We want to do all we can to ensure you can earn your degree — regardless of your financial situation. If you're transferring universities from OSUIT and are interested in scholarship opportunities, Rogers State University offers three options:
RSU Connect. Students transferring credits and incoming in fall semesters are eligible for a scholarship of up to $1,250/year for three years (must have a 3.0 GPA).
Spring Start. Students transferring colleges midyear with a 2.75 GPA can apply for a $500 scholarship for Spring Start.
Phi Theta Kappa. Phi Theta Kappa transfer students can receive up to $1,000 for on-campus housing with proof of membership.
View more information on financial aid opportunities for transfer students or Rogers State University's cost of attendance.
What Hillcats Have to Say About RSU
"RSU is a great place – a home for everyone. You can expand your worldview, right here in Claremore." – Gabe Seiler, Psychology program
Join the Hillcat Nation—Apply to RSU Today!
Ready to find your place at RSU? Request information, schedule a campus tour, or apply to become a Hillcat today!