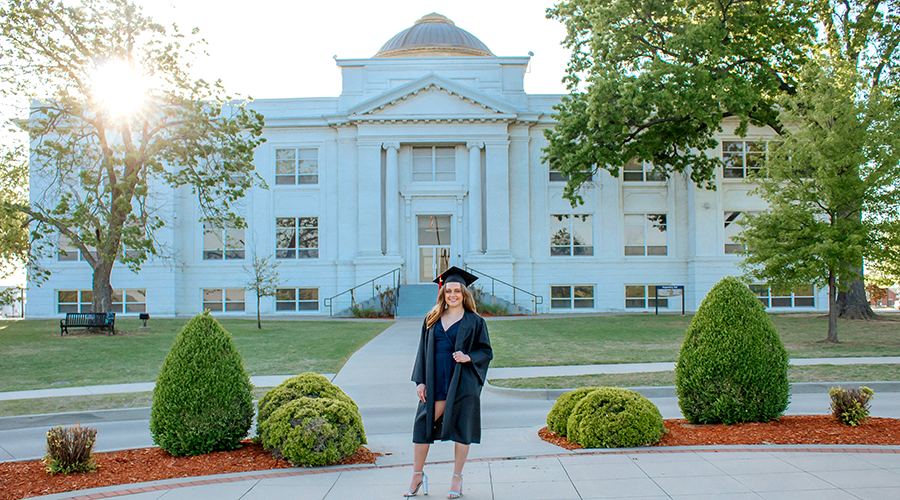 What to Expect During Commencement
Arrive at the expo center dressed in your cap and gown and lined up 45 minutes before your assigned ceremony.
Fill out the YELLOW photo card
As you proceed to the ramp, hand your YELLOW CARD to the staff member

You will also fill out a WHITE Announcer Info Card, hand this card to Dr. Hugh Foley, Announcer for Presentation of Graduates
Diplomas are typically mailed to graduates within 8-10 weeks of the commencement ceremony. To ensure you receive your diploma, make sure all holds have been cleared from your account. Holds may be for transcripts, immunizations, bursar, library, etc. If you do not receive your diploma by the end of the 10-week period, please contact the Office of the Registrar at 918-343-7552.
Commencement photos will be taken during the ceremony at the Claremore Expo Center by Candid Color Photography. Portraits will be available to order online within 24 hours after the event. 
How to Dress for Commencement
Please wear business attire under caps and gowns. No jeans, flip-flops, or sneakers.
Caps and gowns may be purchased from the Claremore campus Barnes and Noble Bookstore. Order regalia online. Email bookstore for more information: [email protected].
Stoles, cords and pins are to be worn in accordance with RSU policy. If you have an item not on the list, please contact Student Affairs at 918-343-7755.
Undergraduate Degrees:
Bachelor's Degree – Black Cap and Gown
Associates Degree/Certificates – Silver Cap and Gown
Summa Cum Laude – Blue Stole
Magna Cum Laude – Red Stole
Cum Laude – White Stole 
School of Professional Studies – Red Tassel
School of Arts & Sciences – Navy Tassel
Graduate Degrees:
Black Cap and gown with oblong sleeves and hood
MBA – Drab tassel and hood with red and blue
MSCC – Gold tassel; turquoise hood with red and blue.
Fall & Summer Graduates
Students who complete their graduation requirements at the end of the previous summer or fall semester are invited to participate in commencement ceremonies. Those who are within ten hours of graduation at the end of spring and have enrolled in the needed courses for the summer semester are also invited to participate in commencement. Once all graduation requirements have been fulfilled by fall and summer degree candidates, the transcripts will be updated to include the degree conferred. Within 8-10 weeks, students should receive a diploma in the mail. Diplomas will indicate the actual date of degree completion.
Graduating Student Survey